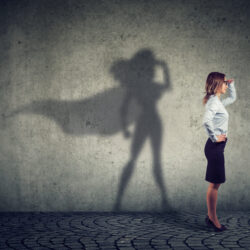 Last week my daughter and I went to see "Avengers: Endgame." There is a scene where all of the female superheroes team up to face the bad guys. It was fun to realize how many female superheroes were included in the film.
There is definitely a concerted and long deserved effort to showcase strong female characters in pop culture. In addition to their cool superpowers, these heroes are brave, smart, loyal, responsible, compassionate and selfless – willing to sacrifice their own happiness for the welfare of others.
As I pondered this phenomenon, I was struck by how there are very few female roles in our pop culture that celebrate another type of female superhero: Mothers.
Superwomen who are trying to become mothers
The characteristics that embody motherhood are the same as our beloved superheroes': courage, wisdom, commitment, responsibility, compassion, selflessness. Over the past 27 years I have had the privilege of working directly with another type of superhero – women striving to become mothers.
These women have all of the same superhero qualities, with one difference – they are expected to display all of these characteristics with only the hope of being able to come to the rescue of their little child in need some day. Month after month they fight the villain of discouragement, often with painful outcomes, only to rise up and face the villain again with courage and resolve.
I don't expect to sit in the movie theater with my daughter any time soon and watch a movie about these superheroes. I really wish I could. She might, midway through the movie, turn to me and ask, "But Dad, what is their superpower?"
To that I would reply, "Love."
Happy Mothers-to-be Day to all the Superheroes out there!