Save up to 40% on IVF & medications
The WINFertility Program offers high-quality infertility care at the most competitive cost so that more people will be financially able to access the treatments that can help them become parents.
Save up to $6,800 on treatment:
The WINFertility Treatment Program is offered throughout Arizona exclusively to Arizona Reproductive Medicine Associates patients who have no infertility insurance coverage or who have exhausted their benefits and seek an efficient, economical way to obtain and pay for advanced fertility treatment.
The WINFertility Program includes both advanced medical treatment and fertility medications in a single, discounted 'bundled' price for each cycle.
Treatment Bundle Prices for IUI, IVF and Third Party Reproduction are 10% – to 40% less than fee-for service medical fees and retail pharmacy rates in the Arizona market.
There are no clinical or age requirements to participate. Patients enrolled in the WINFertility Program are treated with the highest quality treatments and services including optimal dosages of required fertility medications to achieve a safe and successful outcome.
Download the WINFertility Brochure
Pay-as-you-go treatment
Pay-as-you-go treatment gives you control. The WINFertility Program offers below market 'pay as you go' bundles that include fertility treatment and infertility medications for each single cycle. Should you require another attempt, WIN's discounted prices are usually more affordable than paying for multiple cycles that you may never need.
WIN's history of success
The WINFertility Program is an extension of WIN's successful Infertility Management Program that has delivered improved treatment outcomes (improved pregnancy rates, shorter episodes of care and reductions in multiple births) while dramatically reducing the costs of treatment and medications for large insurers and employers for more than 15 years. Our Consumer Program contains many of the same clinical and financial benefits, giving patients without insurance coverage access to evidence-based protocols, quality providers and discounts enjoyed only by the largest healthcare purchasers.
To enroll in the WINFertility Program or learn more, call toll free 1(855) 705-4IVF (4483) or visit www.winfertility.com

Compare our pricing
With WINFertility's treatment program at ARMS, you can save thousands over other Arizona fertility clinics.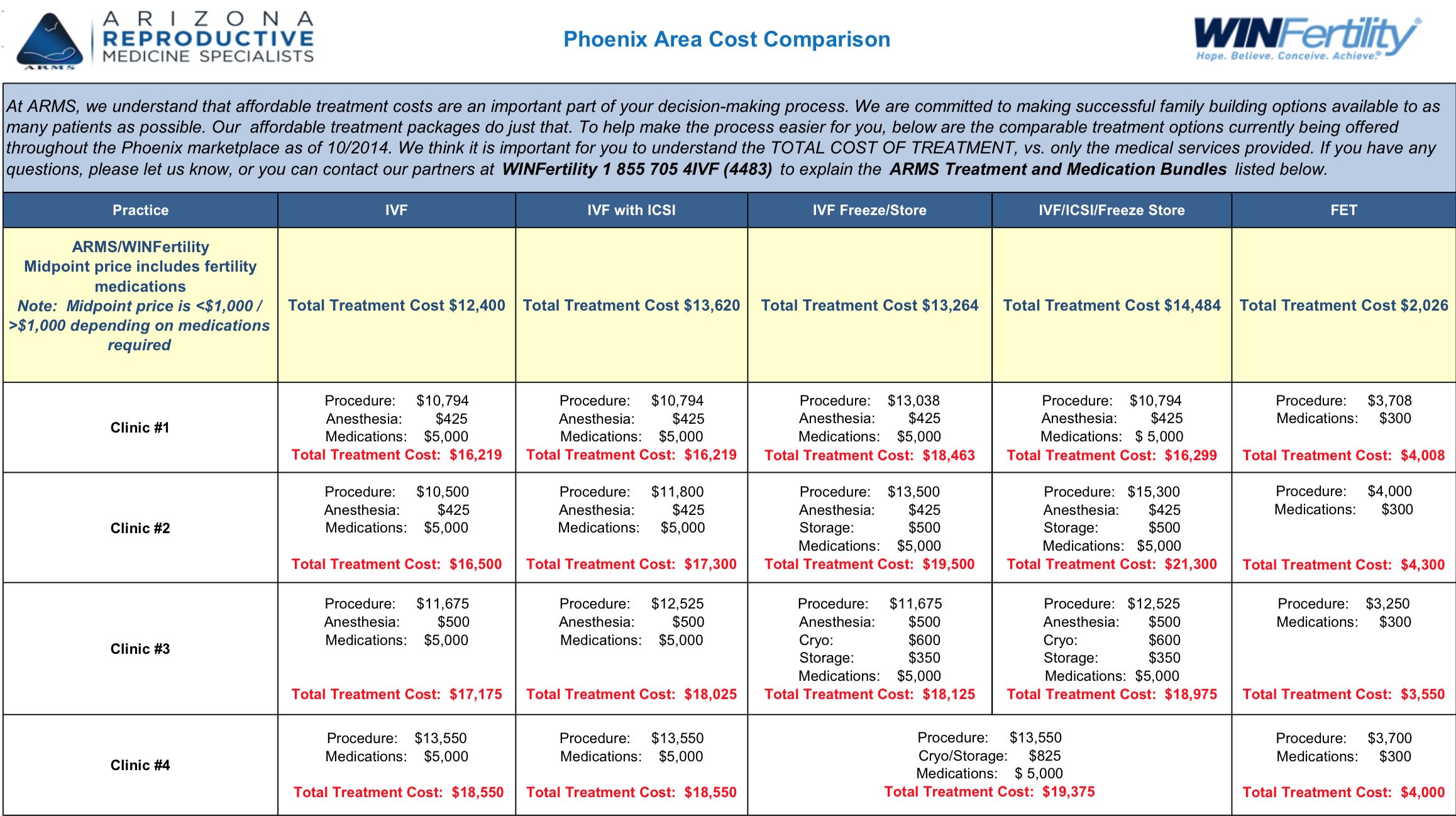 WINFertilityRx program
For Arizona Reproductive Medicine Specialists patients who are without or have exhausted their medication coverage for fertility medications, there is an Affordable Approach to High-Priced Fertility Drugs.
With WINFertilityRx Patients can:
Save up to 40% on Fertility Medication BundlesSM
No coupons, membership cards or special criteria required
Financing available to help pay for meds over time
24/7 FertilityCoachSM Nurses available
24 Hour Delivery Available (Sunday Excluded)
Frequently asked questions about the WINFertility program
What are the advantages of 'bundles'?
As infertility treatment is so complex, determining actual costs have been a confusing experience for patients.  Because the WINFertility Program consolidates the costs into treatment packages or 'bundles', patients have a simpler way to approach and decide on infertility treatments.  Discounts of 10% to 40% off unbundled treatments and medications and pricing predictability offer patients additional peace of mind while pursuing their dreams of building a family.
Why are your prices less expensive than other programs?
WIN is the only Infertility Management Services Company that contracts directly with drug manufacturers, specialty pharmacies and fellowship-trained Fertility Specialists on a large scale that covers thousands of patients annually.  We are able to pass along the volume discount savings and specific dosing management savings directly to patients in the form of single, discounted packages we call bundles.  Even if patients require more than one cycle, our WINFertility Treatment Program bundles are less expensive.
Can you assist with financing?
YES!  We have partnered with various respected financial institutions to offer financing that makes paying for the WINFertility Program even more manageable.  Financing options include terms of up to 60 months (5 years), APRs that start at 5.99%, as well as secured loans and unsecured loans with preferred discount s for WINFertility patients.  All financing is at the sole discretion of and subject to the lenders credit policies.   Call (855) 705 – 4483 TOLL FREE to speak with the WINFertility Patient Specialist about our Financing Programs.
How is the WINFertility program different from the multi-cycle treatment plans with refunds?
The multi-cycle treatment plans that exist today require that you meet certain medical and age criteria to participate and that you pay cash for the program. WINFertility is open to all who require infertility treatment and who have no infertility insurance coverage. The WINFertility Treatment Program does not offer a refund, but provides substantially reduced costs for easier treatment access.
Multi-cycle plans require a significant payment up front for medical treatment only (medication costs run an additional $4,500 – $10,000).  The multi-cycle plan costs more than 2 ½ times the charges for a single, bundled attempt with WINFertility (which includes all medications for the cycle).
With many multi-cycle plans, patients may get up to 6 medical treatment attempts for that price (medications extra).  If you don't have a pregnancy or a baby, you receive a partial refund.  If you have a successful outcome, you have paid that significantly higher price (approx.  2 ½ times the WINFertility bundled price, medications included).
Multi-cycle plans may be a sensible choice for those who would like a type of 'insurance plan', in case they need another IVF attempt.  However, with IVF success rates in the 50-70% range, multi-cycle plans might not be the best financial decision for every patient.
The WINFertility Program offers 'pay as you go' packages that include treatment and medications and are 10% to 40% less than the unbundled rates.  Should you require another attempt, our discounted packages are still more affordable than paying for multiple cycles that you may never need.
I'm 44 years old – do I qualify for your program?
The WINFertility Program is designed to provide greater access to all who require high-quality infertility treatment.  There are no clinical or age qualifications to participate.  If one of our network physicians determines that you need treatment and you have no insurance coverage, you can enroll in our Program.
I am already in treatment with another practice. Can I use your program at my current fertility practice?
WIN has a contract with ARMS to be providers of our WINFertility Program in Arizona.  In order to take advantage of the offer, you would have to be treated by the ARMS practice.   Depending where you are in your treatment, it may not be difficult to switch at this point in time.  One of our FertilityCoachSM Nurses can discuss your current situation and provide you with clinical answers that can help you make that decision.
I have some insurance coverage, but it is all so confusing. Can I just submit my bill from you to my insurance company and see what they'll pay?
The WINFertility Program was developed specifically for people who have no insurance coverage for infertility treatment and for those who have already exhausted their benefits.  You will need to investigate your coverage and contact your insurance carrier to learn exactly what treatment and medications your company has elected to cover.  Once you have determined what is covered and what isn't, enrolling in our program is easy and very cost effective.
The WINFertility Program is for cash-paying patients only.  It is part of our ability to negotiate discounts with our physicians, pharmacies and drug manufacturers and pass the savings on to our patient.   Participating enrollees must pay in advance for our discount bundles (but financing options can help you with monthly payments).   This component is another way we're able to negotiate prices that are most favorable to you.   So, your best approach is to find out what your insurance is willing to cover, have those treatments paid by your insurance carrier and if you still require treatment and medications, WINFertility is your best option.
If you have more questions, or would like to enroll in the WINFertility Program, you can speak with WINFertility's Patient Specialists, Call toll free 1 (855) 705-4IVF (4483) or visit www.winfertility.com
Questions?

Call us at (602) 351-5327 or schedule an appointment below. Let's talk.

Book Appointment Now